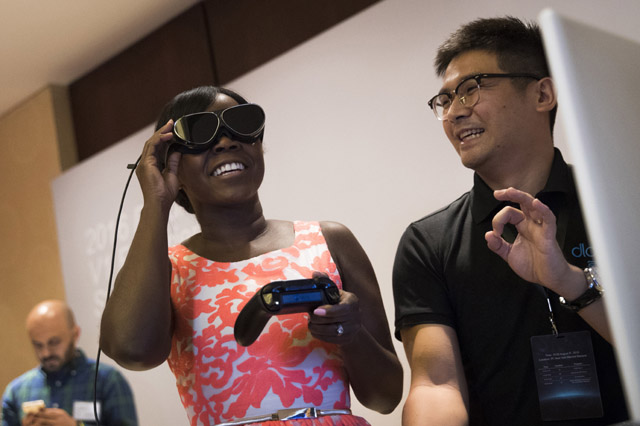 A woman tries on Dlodlo V1 VR glasses during a press preview for the glasses at the Marriott Marquis in New York City. AFP
Chinese investors are keen to invest in overseas virtual reality companies that possess advanced VR technologies and can help Chinese enterprises expand to overseas markets, experts said.
Statistics from research firm Digi-Capital showed that investment in the global VR/AR field reached $1.7 billion at the end of the first quarter of this year and that Chinese venture capital firms have shifted their focus to VR/AR investment. Revenue in the global VR market is on track to hit $30 billion by 2020, with the Asian market a key driver.
At the end of July, at least nine overseas VR projects had received investment from Chinese capital, with 14 Chinese companies participating.
Shanghai-based investment group China Media Capital and top gaming company Shanda Group are very active in investing in overseas VR projects.
California-based virtual reality startup NextVR Inc announced on Monday that it raised $80 million in new fnancing round. New investors in this round include China Media Capital, NetEase Inc, CITIC Guoan Information Industry Co Ltd, Founder H Fund and China Assets (Holdings) Ltd.
NextVR has 36 patents granted or pending for the capture, compression, transmission and display of VR content. With this new funding, it looks to establish a worldwide footprint for its platform for live sports, concerts and other events.
It is the second overseas investment for CMC in the nascent technology within one year. It co-led a $65 million fundraising with The Walt Disney Co and investment company Evolution Media Partners for Jaunt Inc, another California-based VR software startup, in September.
Li Ruigang, chairman of CMC, called the investment an important step in its foray into the global entertainment technology revolution.
According to the data analytics platform Tracxn, Shanda has become the most active investor in the global VR investment field
Earlier this year, it pledged $350 million investment to create a VR theme park in partnership with The Void LLC, a US entertainment company that specializes in VR technologies.
In December, Shanda and the private investment group of Chen Tianqiao, the founder of Shanda, invested in Iceland's Solfar Studios ehf to develop its Everest VR, a VR travel adventure app.
Zhao Ziming, an analyst at Beijing-based Analysys International, said overseas VR projects are leading the pack in VR technologies, and Chinese companies hope to enter into the international market by using mature overseas projects. They focus on hardware making and the production of VR video content.
"The amount of investment from Chinese companies is high. Receiving investment and establishing cooperative relationships with Chinese investors will help overseas VR developers to enter into Chinese market more easily," said Zhao.
However, domestic VR companies will face fiercer competition from overseas products.
"Although this may weed out some small and medium-sized startups, it is not a bad thing since more domestic VR enterprises have to produce valuable VR products," Zhao added.